Submitted by

Robin

on Jun 27, 2019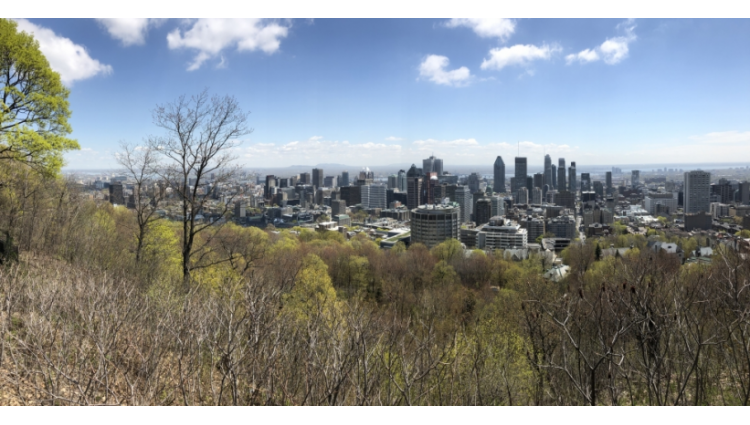 Let life surprise you and take a trip to Montréal, Canada.
Visit the Old Town of Montréal and stroll along Saint-Paul Street where there are restaurants aplenty and art galleries, too. Stop into the PETERwHART Gallery and get swept away by the radiant and glittery colors the artist has chosen for his works. This famous street is filled with many galleries, cute shops, and quaint cafes. Be sure to visit Olive & gourmando for a quick breakfast or café au lait. Then, enjoy moments of walking, eating more (ha!) and noticing the beauty of Montréal.
If you're adventurous, take a ride on The Montreal Observation Wheel (aka a Ferris wheel), which overlooks Montréal. But don't let them forget you like they did me. I had to press the emergency button for me to exit. Sheesh! The view is exquisite, especially on a gorgeous sunny day, so put it on the list for an activity like this. You'll notice things from high above that you wouldn't normally notice. It was heavenly!
For shopping, go downtown on La Rue de Saint-Catherine. It reminds me of Market Street in San Francisco, so if you like those type of shops, this is the rue for you! Grab a tasty coffee at Cafe Myriade, too. There's also shopping at The Mile End (They tout it as being like Soho but it really isn't.) with boutiques such as Boucle & Papier and Vestibule. In my opinion, the best street for shopping is Bernard at The Mile End however, there are also vintage stores on Parc Street If you're not interested in this type of shopping, I'd skip it. Mile End is far from downtown so a taxi or Uber is necessary.
Explore the beauty of the Notre-Dame Basilica on your walk to The Old Town of Montréal. Every day at 5:30 p.m. there's an Aura exhibition indoors with a flickering light show.
If you're an art lover, you can view the many museums in Montréal such as the newly renovated Contemporary Art Museum (MAC) called the Musée d'art contemporain de Montréal. And don't miss The Montréal Holocaust Museum, which is the only recognized Holocaust museum in Canada. Did you know Montréal is the city where the third largest population of Holocaust survivors settled?
Give your legs more of a workout and hike up Plateau Mont-Royal passing shops, cafes, and interesting architecture to the park's entrance. This is straight up folks, unless you take the windy paths which both lead up to the vista point overlooking the entire downtown of Montréal. The view is worth the walk especially on a sunny day. Bring your comfy walking shoes and expect the unexpected!
Get some rest and relaxation at The Fairmont, Queen Elizabeth Hotel, which is a contemporary hotel in the heart of downtown Montréal. It's conveniently located within walking distance to the Old Town of Montréal, to shopping on Sainte-Catherine and to the entrance of Park Mont-Royal. If you have points with the Fairmont, upgrade and stay on the OR level (means gold or jackpot. Ha!) and enjoy a full breakfast, appetizers, snacks and beverages throughout the day.
It's moments like these on trips that truly count: beautiful, glorious, spectacular - like life itself! If you'd like help planning a stylish adventure, Just Ask!
Amusez-vous!