Submitted by

Robin

on Nov 09, 2018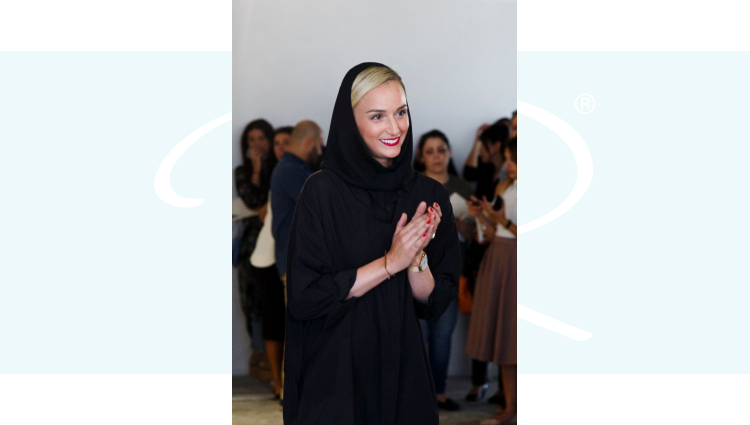 Born and raised in France to Algerian parents, fashion designer Faiza Bouguessa was introduced to the world of fashion very early. Her brand BOUGUESSA is a luxury ready-to-wear label that embodies the classic and the contemporary, as well as Modest wear. I recently learned of her amazing talent through her role of contributing designer in the recent Contemporary Muslim Fashions exhibition at the deYoung Museum in San Francisco, which is a must-see!
Robin: I understand you were inspired by your grandmother to start sewing. What was the first clothing item you made?
Faiza: If I'm not wrong, the first item of clothing I made was an off-shoulder cropped top made of lined fishnet fabric and denim details.
R: What or whom inspired you to follow your passions and eventually launch your own brand?
F: There wasn't really a person who inspired me. I think I've been determined for the longest time, and very self-analytical, always trying to improve my weaknesses.
R: How did you first get involved in modest fashion?
F: I found that focusing on modest fashion on a personal level was challenging and I like the idea of constantly challenging myself. On a more general level, I felt it was important that no women felt left out and that all women should have the freedom of expressing their personality through fashion no matter their style preference.
R: What's the biggest misconception about modest fashion?
F: Very often, women who dress modestly are seen as oppressed. For some of them in certain places of the world it's the case. But for a big number of women it's a choice. It's something that makes them feel safe, comfortable and beautiful.
R: Do you have any advice for young designers with aspirations to create their own brand?
F: Start with a business plan. Find what makes you uncomfortable and work on that first. When we start a career in fashion we tend to want and jump in on the creative aspect first, but it's often the wrong thing to do. And most importantly, be patient.
R: What's the best piece of advice you've ever received?
F: Roland Mouret once told me, "Your freedom starts where somebody else's stopped." It was resonating a lot for me at that time as I was wondering if I had taken the right decision to work on Modest wear.
R: How do you feed your creativity in order to incorporate art, architecture and global culture awareness into your designs?
F: I read a lot about art, visit blogs and medias that show a lot of visuals that I instinctively get drawn into.
R: What went through your head when you found out Beyonce would be wearing one of your designs?
F: I didn't believe it, but I thought it would suit her so well if she did. And it did!
R: Are there other celebrities that you would love to design modest fashion for?
F: I like to think of Rihanna these days. There's a gown that I would love to see her in. But, I would like to clarify the fact that not all my designs are modest, and that with time this element has evolved into designing for all women. Though, a big number of designs are suitable for women who dress modestly, they also work for all women. For example, some styles can be worn as gowns and the woman wearing them can show a little bit of leg while a woman who dresses modestly could style them with the matching pants. In the future, I wish to extend this concept of inclusivity to add a wider range of sizes in my collection to include plus sizes. At the moment we already have the option of petite fit for all our designs.
R: What stood out to you the most about the Contemporary Muslim Fashions exhibition at the deYoung Museum in San Francisco?
F: What stood out was the amazing attendees. I wasn't expecting anything in particular, but I was surprised to see the open mind of the people attending. Everyone was so nice and excited about the exhibition.
R: Where and when will we be able to view your next collection? Any hints on what we can expect to see?
F: You can expect to see my Resort 2019 collection live on my website around Mid-November, and you can expect more Art inspiration.
You can view Faiza's current collections on the BOUGUESSA website. Be prepared to have your breath taken away.
Beautiful!