Submitted by

Robin

on Mar 08, 2019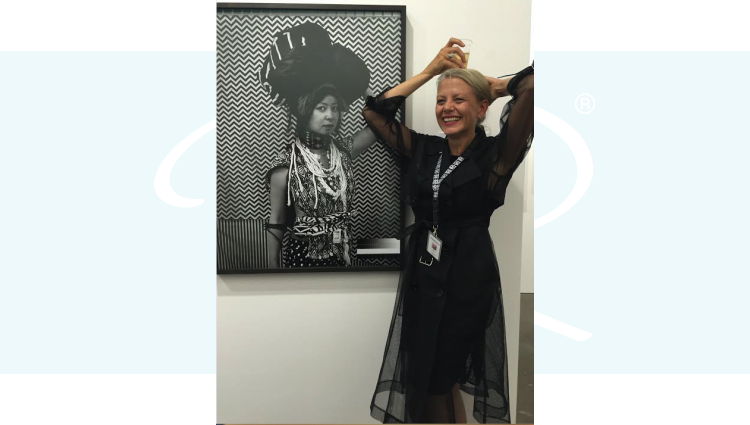 Catharine Clark is the owner and director of Catharine Clark Gallery in San Francisco. Established in 1991, the gallery represents 25 artists working across media and is the first to have a dedicated media screening room.The above photo is Catharine Clark with artist Stephanie Syjuco's Cargo Cults: Head Bundle, 2016. Archival Epson pigment print. 40 x 30 inches. Edition of 5. Exhibited at Paris Photo 2017.
Read on to learn more about what motivates this amazing businesswoman and get inspired by her passion for art.
Robin: What draws you to contemporary art more than other styles?
Catharine: I am drawn to art from across eras, but I like the engagement that working with living artists provides. Further, while I believe art at any point in history reflects the values of that period, I am interested in current events and the human condition at this moment, and the myriad ways in which contemporary artwork reflects our social and cultural condition.
R: How have you seen the San Francisco art scene evolve since you opened your gallery in the 90s?
C: I have witnessed the scene growing (and at times shrinking) largely in response to economic factors. For example, when I first opened my gallery in 1991 in Hayes Valley rents were very cheap, making my start possible. A portion of that neighborhood was cut off from the rest of the Civic Center in the aftermath of the 1989 quake because a segment of the central freeway had literally fallen onto the street. The down side of this event was that crime and human sex-trafficking flourished in the part of the neighborhood that was on the "wrong side of the tracks." The up side was inexpensive spaces were available for rent (to creatives), which enabled me to get my start. The art scene shrank after the so-called dot-bomb of 2000 and the subsequent event of 9-11, and again after the financial crisis of 2008-2009, and then the quick rise in the tech sector in 2013, which forced rents upwards before the art market had recovered from the down turn, causing tremendous attrition from the city (and neighboring cities, like Oakland) of creatives. A few people and organizations helped to curb the exodus—Andy and Deborah Rappaport of Minnesota Street Project, for example, Spike Kahn and her many efforts to secure affordable studio spaces for artists, and local collectors, who made efforts to support galleries and artists through the difficult periods—people like Lorna Mayer (Calas), Andy and Deborah Rappaport, Nion McEvoy, and Kevin King (and others).
R: When selecting artists, do you have a method or is it an organic process? For example, do you seek out politically oriented artists?
C: As an art historian I had been trained to write and analyze artwork, but not to necessarily render an opinion about whether the work was meaningful to me personally. It took me a few years of having a gallery and exhibiting artists' work to recognize what artwork I thought was most relevant and also resonated with my personal taste. And, yes, much of that work has political content, but that word should be understood broadly. Sometimes it is a political act just to be able to make art.
R: What is your most cherished piece of art from your personal collection?
C: That is like asking me to pick my favorite child! I am incredibly fortunate to have assembled a collection of art that I would say is like a portrait of my life's experiences. One of the kindest gifts anyone ever bestowed upon me was from the artist and musician, Paul Rucker, who, when I was undergoing treatment for cancer three years ago, made me an incredibly meaningful work reflecting on the KKK's bombing of the 16th Street Baptist church in Birmingham, Alabama, in 1963, resulting in the senseless death of four girls. The work portrays the "faces" of four cellos carved from a single piece of wood. It uses the "language" and visuals of music/instruments to create an elegy for the lost lives. Paul told me I could either sell the work and keep the proceeds to pay for my treatment or keep the work for myself. The act of generosity was so tremendous that I could not bear to sell it. I have it hanging above my piano in my home and it reminds me every day about the value of life, friendship, and compassion. The word grateful is over used these days, but simply put, that artwork evokes tremendous gratitude in me for the supportive community that surrounds and sustains me.
R: As a successful business owner, what advice do you have for women planning a career in the art world?
C: Seek out the mentorship of women who have come before you. Support other women and people who are under-represented. Build a community around you that will help you through difficult times. Work hard. Build bridges. Communicate. Maintain relationships. Be kind. Be authentic. Recognize your privilege to have chosen a career that so many are afraid to pursue.
R: What keeps you motivated and inspired?
C: The art! And the capacity art has to change lives and foster strong communities.
R: Dancer, teacher, author, editor, gallery owner, award winner—the list goes on. What other titles would you like to add to your list of accomplishments?
C: Mother of two amazing adolescents, who are also my inspiration to work harder and smarter! My daughter, Lilah, has transitioned from being a classical ballet dancer to working for non-profits that serve the un-housed; and my son is still in high school, but has a huge heart and a keen eye and mind when it comes to observing art of all kinds from visual to performing. Nina Katchadourian has a photograph in her series "Sorted Books," which reads: "What is Art? Close Observation." If this is a true statement (which I believe it to be), you could say Max is an artist, of sorts. That said, I think he wants to be a professional soccer player—he was most proud of me when I was able to get one of Sandow Birk's works from "Imaginary Monuments," titled Proposal for a Monument to World Football (2015) reproduced in Howler Magazine (a publication dedicated to "football" aka American soccer).
R: What can we expect to experience at Catharine Clark Gallery at the beginning of 2019?
C: We will open the 2019 season with an exhibit titled Network Paradox of an 18-foot scroll that is a portrait of the history of the internet by Greg Niemeyer (and a collaborative video work with DJ Spooky aka Paul D. Miller in our media room). The exhibit commemorates the web's 50th anniversary and there will also be a performance by DJ Spooky at Yerba Buena Center for the Arts.
More about Catharine
In addition to programming exhibitions, Catharine also hosts fundraising and development events for non-profits and political campaigns. A member of the San Francisco Art Dealers Association since 1994, Catharine has served as a trustee and executive committee member for ZER01: The Art and Technology Network, as a trustee for Lick Wilmerding High School Alumni Board, Recology, and SF Camerawork. She is a member of the San Francisco Advocacy for the National Museum of Women in the Arts, and has served on the advisory boards of San Francisco Arts Education Project, among other not-for-profit organizations.
Happy International Women's Day!