Submitted by

Robin

on Mar 17, 2017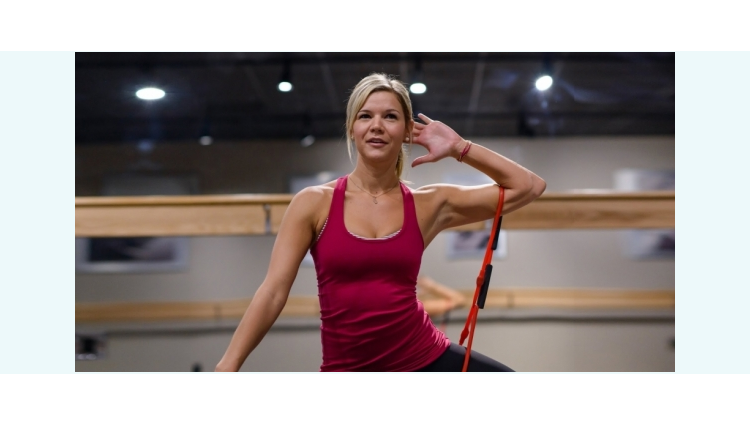 Every two years or so, I like to mix up my fitness routine and try something new. This year, I've chosen a fantastic full body workout class called Pure Barre. Not only do I belly up to the bar, I'm mentally hooked on the Barre! But don't take my word for it, see what Pure Barre Burlingame owner, Alyssa Bothman, has to say…
Robin:
When and where did you first try a Barre class?
Alyssa:
My first Barre class was at Pure Barre Los Gatos in 2011. My college dance team
coach was a Pure Barre teacher and introduced me to the class. After my first
class, I left feeling confused by the workout and confused as to why my body was
shaking and reacting the way it did. The next morning I woke up and couldn't get
out of bed. A few days later, I went back for more.
R:
What inspired you to open your own Pure Barre studio?

A:
Both of my parents own/owned their own businesses, so I grew up with an entrepreneurial spirit. I always dreamed of owning my own business, too. After graduating from Santa Clara University with a Dance and Finance dual
degree, I chose to pursue a dance career and move to New York City. I looked for an
opportunity to meet like-minded individuals focused on health and fitness, so I
joined Pure Barre NYC. After just a month of taking classes, I auditioned to
become an instructor. I taught in the very first NYC Pure Barre studios
(Columbus Circle & Union Square). After a few years, I made the decision to move back to the
Bay Area and open a studio of my own. I wanted to create the same environment
that gave me so much. A place people can go to feel welcomed, accepted, loved,
and inspired. A place to promote happiness and health. Above all, a place for
people to call home.
R:
What's your biggest piece of advice for other female business owners
just starting out in the fitness industry?

A:
Be genuine. Be yourself. In the fitness industry, there's plenty of competition out
there and a lot of people in this industry get caught up with "image." I've learned
that people will believe in you if they believe you. So, don't be somebody you
aren't. People see through that. Honesty is the best policy, and people like
honest people.
R:
What's your advice for a Pure Barre newbie?

A:
Be patient and trust the process. It works. Feeling confused in your first five
classes is normal. If you stick with it, you'll begin to understand the technique and
the results will come. Pure Barre is always meant to challenge you, so take the challenge.
R:
What do you recommend wearing to a Barre class? What are some of your
favorite fitness clothing brands/stores?

A:
Socks are required in our classes; sticky socks are highly recommended for a
good grip. You want to keep your muscles warm in class, so long leggings are
best. I love quality and comfort in workout clothes. My favorite brands are Beyond Yoga and Alo.
R:
What's a misconception people typically have about Barre classes?

A:
That we're all perfect ballerinas. We're nothing of the sort. We sweat. We work.
We struggle. We take challenges. We set goals and we achieve them. We work
extremely hard for our results because we want them. Don't ever feel intimidated that you cannot do Pure Barre. If you can hold onto a barre, you can do Pure Barre.

R:
What are the benefits of Pure Barre classes?

A:
Strength - physically and mentally. After 10 Pure Barre classes you'll feel and see
a change in your body. You'll increase muscle definition, burn fat, increase
flexibility and sculpt a strong, lean body. But it's the mental benefits that people
don't talk about. As your legs are shaking underneath you, your head is
saying, "Stop shaking!" while the teacher is saying, "Shaking muscles are changing muscles!" For 55 minutes
you focus on nothing other than yourself. You leave feeling
energized and empowered, knowing that you just accomplished a lot and now
you're ready to take on anything life throws at you. Above all, by joining Pure Barre, you are joining a community. Pure Barre is a community of people that lift each other up. We celebrate each other's accomplishments and cheer each other on. Pure Barre is more than a workout, it is a lifestyle. And we are a Pure Barre Family.
R:
Do you have any inspiring fitness success stories from your studio's
clients?
A:
One of the greatest gifts of my job is to not only witness transformations but to be
a part of my client's daily lives. One that sticks out to me is a client that I hold
very close to my heart: Suzy. When Suzy first began Pure Barre, she shared with me
how she had struggled to find a workout where she felt the results she wanted.
After just a few short weeks of trying Pure Barre, she suddenly started to feel like
her clothes fit her better, and, for the first time in her life, she actually looked forward to working out. Fast
forward a few more months, Suzy developed her 10th cancer. For most, they
would feel victimized and weak. For Suzy, she stayed strong and positive. Sure enough, she
was back to Pure Barre just 2 weeks after surgery and continued during radiation treatments. At a time when she could have given up, she would tell me she heard the voices of her Pure Barre teachers reminding her "You are stronger than you think you are." She's a true inspiration. Today, she continues to take class at Pure Barre and
is on her way to the 500 Club. To have created a place that Suzy feels safe and loved, where she has made friends that support and encourage her. I know I am doing what I was meant to do. This is what inspires me to keep going.
Alyssa was born and raised in the Bay Area, she began her dance training at a very young age. She was dancing professionally in New York City, when she found Pure Barre. Immediately discovering a strong passion for the technique, she joined the Manhattan team as an instructor at the Upper West Side and Union Square studios. Upon moving back to Northern California, Alyssa continued teaching Pure Barre at multiple studios. In 2013, she opened Pure Barre Burlingame. From operations, management, training, marketing, teaching and everything in between she embraces the daily challenge of owning a small business. As a Brand Ambassador for Lululemon, she strives to be a positive role model in the fitness community.

If anyone would like to plan an event at a Pure Barre studio in your area, Just Ask me and I can arrange a
fabulous event for you with the help from Alyssa!

Ready to belly up to the bar with me?