Submitted by

Robin

on May 22, 2018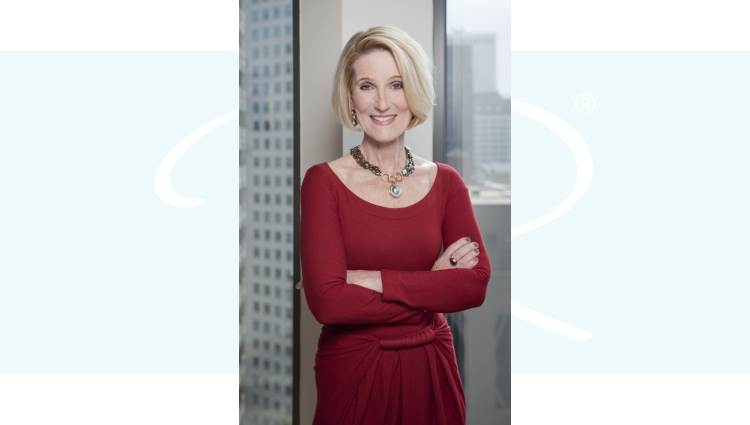 She's been named one of Barron's "Top 1,000" financial advisors nationwide, is an active member of the Board of Trustees of the Foundation of the Fine Arts Museums of San Francisco and one of the most fashionable women I know. Welcome to The Report, Lorna Meyer!
Robin: Do you have any advice for how women with successful careers can also follow their other passions?
Lorna: I believe it is all about time management and self-direction. If you are a women with young children, it will be more difficult to manage a career and a growing family and still follow your passions. As the children become more independent, you will have the time to make important choices about how you want to give back to the community and to others and to do the things you have always wanted to do.
R: How do you think your experience as one of the nation's most highly regarded financial advisors has helped you in other aspects of your life?
L: It has given me the opportunity to meet incredible people who have become an important part of my life. These people lead by example and have enabled me to expand my horizons and to realize how important it is to do your part as best you can to make a difference in the lives of the people you love and in your community. As we all work together, we hope to make this planet a better place to live.
R: What led you to become involved in the arts?
L: It just came naturally. My grandfather and my aunt were artists, my great uncle was a well-known English author, and my grandmother a costume designer. Being involved in the arts was not something I specifically planned, it just happened rather spontaneously as various opportunities were presented to me along the way.
R: Do you have any tips for collecting art?
L: Only buy what you love. It is also important to educate your eyes by seeing as much art as possible in museums, galleries, private collections, auction houses, and any other place art might take you. It also helps to find professionals in the art world that you trust to give you advice and lead you in the right direction.
R: What's something most people don't know about the Bay Area art scene?
L: In some respects, I think much that happens seems to be a well kept secret. There is so much here that is very exciting and getting more and more interesting. You just have to go out and find it!
R: What are your go-to cheeses and accompaniments for the ultimate cheese board?
L: For me, it is finding one or two go-to cheese shops where I can always find something new along with the old standbys and also get good advice. I like to serve truffle honey with cheeses or other specialty jams.
R: If you could have dinner with a group of fashion designers (living or dead), who would you invite?
L: Coco Chanel!!!!
R: If you had to choose only one piece from your jewelry collection to wear forever, what would it be?
L: My favorite Russell Trusso necklace with a large aquamarine stone.
R: How do you discover new fashion and jewelry designers?
L: Just by keeping my eyes open and taking art where it leads me, as to me fashion and jewelry are an art form in their own right.
R: How did you get started creating raps for friends and family toasts?
L: It started by writing poems for friends for parties and events. For one particular event a good friend and leader of the renowned band, David Martin's House Party, suggested that I turn the poem I was going to read into a rap and he did the back-up music with me. It was such fun that it started a trend.
More About Lorna
Lorna is a Managing Director with Merrill Lynch's Private Banking & Investment Group in San Francisco. She specializes in providing comprehensive wealth management services to executives, foundations and ultra-high-net-worth families. This year, Forbes recognized Lorna as one of the top 250 wealth advisors in the nation and one of the top 25 women wealth advisors nationwide. Barron's also has recognized Lorna for many years as one of the nation's leading woman financial advisors, ranking her among the top 25 advisors in California. Additionally, San Francisco Business Times has named her the #1 Woman Wealth Advisor in the Bay Area and honored her as one of the "Most Influential Women in Bay Area Business." Lorna is currently the President of the Foundation of the Fine Arts Museums of San Francisco (deYoung and Legion of Honor) and serves on its board of trustees. She also sits on the board of the San Francisco Conservatory of Music, where she is chair of the investment committee. Additionally, she serves on the board of trustees and investment committee for the California College of the Arts. She is also co-chair of the advisory board of the Shrem Museum at U.C. Davis. Lorna co-founded the San Francisco Advocacy for the National Museum of Women in the Arts (NMWA) in Washington, D.C. Lorna is an active collector of California art and currently focuses on supporting contemporary and emerging artists.