Submitted by

Robin

on May 27, 2022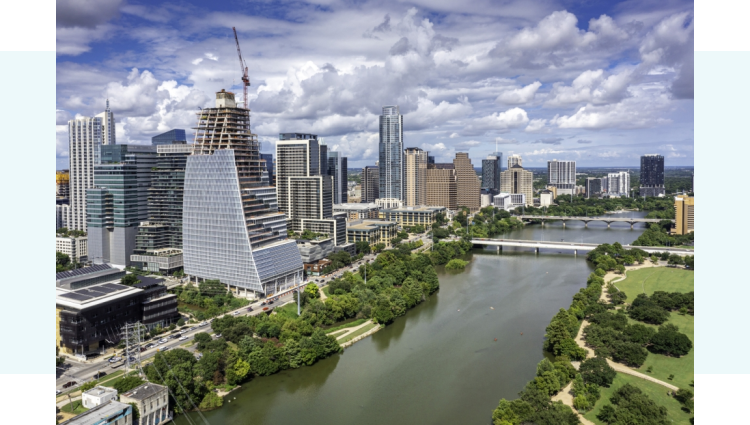 Have any summer plans? Thinking of things to plan for? What are you doing over the summer? So many questions — so little time! If you need a great idea, how about heading to ATX?
I just returned from Austin, Texas and it was awesome! It was only the second time I've visited Texas. The first time was when one of my daughters was 10 years old playing in the National Softball Championship as the catcher in San Antonio, Texas.
A friend of mine asked if I wanted to go with her to Buck's Backyard in Austin to hear Josh Turner (yes, THE Josh Turner, the country singer.) So, of course, I jumped at the chance and we had a ball. I didn't realize I liked country music. Who would've known? Ha!
The day we arrived we headed to Driftwood, Texas just outside of Austin to eat at a restaurant called, Trattoria Lisina. First of all, the drive to the restaurant was beautiful. I didn't feel like I was in Texas at all. It actually felt like California except that it was flat! The funny thing is Driftwood is called the Hill Country. Ha!
We drove by vineyards and live oaks. And then there was this very cute bbq place we just had to stop at. It was called, The Salt Lick. We made a quick detour to check out this well-known place and holy smokes, the original pit at the restaurant was extraordinary. I did buy The Salt Lick Dry Rub Original (Like No Other, it says on the label!). It's first-come-first-serve for dinner at this restaurant so be prepared to wait for a seat at the picnic tables. Next time I'll have to eat some Texas BBQ!
Back on our way, we headed to the Italian restaurant and grabbed an Italian sparkling wine called Soave. It was deliciously cold and we wandered around the property enjoying the view. If you get a chance, try a glass of wine at the Driftwood Estate Winery, which is directly next door to Trattoria Lisina. Our dinner was divine. We could've done a little bit less of the fluffy focaccia bread and garlic bread but our meal was delish!
If you're in Austin just for the weekend, as we were, I highly recommend renting a bike and getting a private tour riding around Austin. As I previously mentioned, this was my first time in the capitol of Texas and I can now say I know Austin. Ha! We rode by Barton Springs, The Congress Avenue Bridge where 1.5 million bats live (go at dusk to see them fly out!), the Stevie Ray Vaughan statue, the Pennybacker Bridge and so much more.
The Josh Turner concert was at night so we were fortunate enough to have dinner with him at the Lonesome Dove Restaurant before the show. This western bistro was so cool with taxidermy animals. The dinner was tasty and I even tried rabbit-rattlesnake sausage. I recommend the fettine as a starter, which is a specialty of thinly sliced meats accompanied by spicy pickles. The bistro is also known for its steaks, but maybe try the elk with some baked oysters and hushpuppies as appetizers. So so yummy! Put this on your list the next time you're in Austin.
I got some shopping in, too. Visit Evereve for some casual-chic outfits.
A weekend was not enough to devour this awesome city, so I'll be back! If you're interested in having a summer adventure in Austin and need some more tips, Just Ask!
Happy travels!